Chrome Hill is Asbjørn Lerheim (baritone and electric guitar), Atle Nymo(tenor saxophone),
Roger Arntzen (double bass) and Torstein Lofthus (drums).
New album from Chrome Hill out on May 11th, 2018, «The Explorer»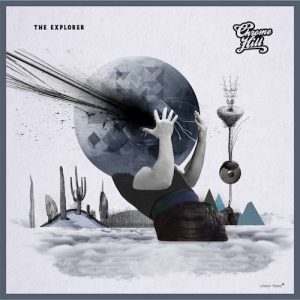 Tell me what was your first love in music and I'll tell you who you are. That's what you could say about guitarist Asbjørn Lerheim, who played blues and rock before being interested in jazz and now plays blues and rock (and folk, inevitably linked to both) in a jazz context with the band Chrome Hill, formerly known as Damp. And what a band, the also member of Lisan Dillan's Quiet Quiet Project having the company of likeminded souls: Roger Arntzen (In the Country, Ballrogg, Trail of Souls), Torstein Lofthus (Elephant9, Shining) and Atle Nymo (Motif, Saxwaffe, Atle Nymo Quartet), the last replacing Jørgen Munkeby (Shining), who became one of the most predominant figures of the Scandinavian heavy metal scene. Much can be said about the capacity of this younger generation of musicians to play several genres and use diversified music vocabularies (not necessarly the ones they embraced at the beginning of their careers), but even more interesting is the fascination for Americana here revealed and happening often in the North of Europe: these guys can play Appalachian folk songs, Delta blues and red neck rock as if they were born on the inner guts of the United States of America, doing it without ever losing their identity as jazz improvisers. Be marveled, people.