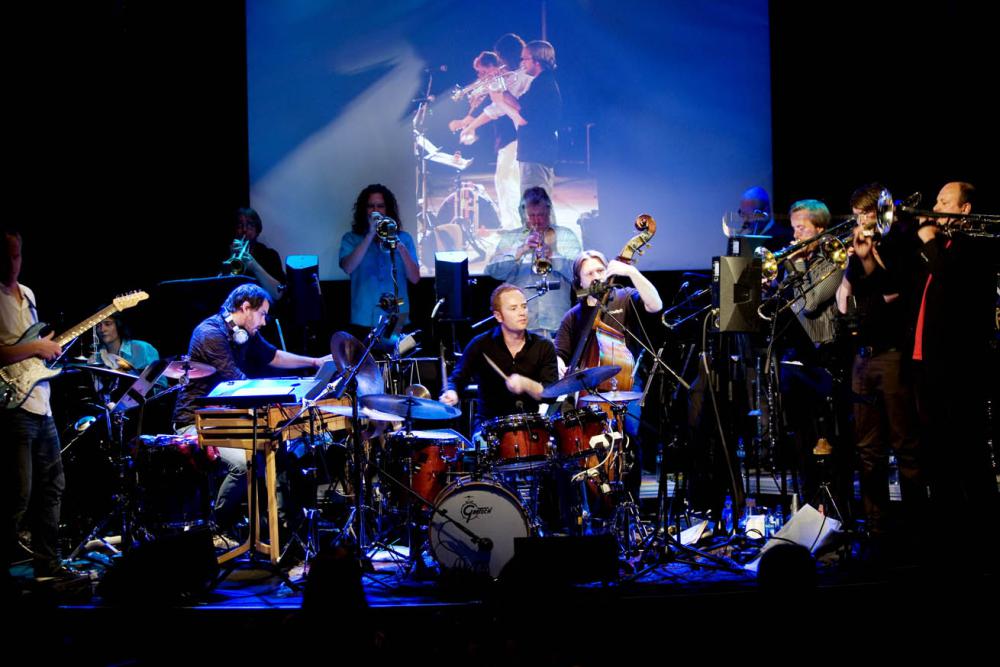 Oslo Jazz Ensemble , the new name of Ensemble Denada is a gathering of some of Norways best jazz soloists and ensemble players.  The ensembles first release on the German label ACT in 2006 got overwhelming reviews in the international jazz press. Since then, the 14-piece Ensemble Denada have been traveling around the world, playing some 15 concerts a year. In December of 2015, the band performed the last two concerts of the year in the Italian cities of Foggia and Pisa. Germany, Italy and the UK have been important countries for the band. But the band have also visited the US (Xerox International Jazz Festival), India and the Middle East.
«Positively energetic, optimistic, funny, solar and listener-friendly», was the word by Francesco Martinelli in his review of the concert in Pisa for All About Jazz (link below)
A few years ago, Ensemble Denada performed in London. At the venue, a visiting festival director from South Africa decided to invite the whole band to his festival. He already had an appointment with his favourite jazz composer, Maria Schneider. A combination of the music composed by the Denada-bandleader Helge Sunde and the music of Schneider was the ultimate idea for the festival programme 2014. A brave man! However, bringing some 40 very busy musicians from Europe and the US to a festival date in Africa turned out to be quite a challenge. The solution was to add selected musicians from South Africa to Ensemble Denadas line-up, and put Maria Schneider in front with her scores. The following evening, Schneider and the south-africans could enjoy Ensemble Denada and the music of Helge Sunde from the best seats in the auditorium. The result of the two nights was quite a success. There were even roomers of people in the audience crying because of the emotional spirit of the music.
Ensemble Denada is now recording new music and preparing the 2016 season, which include several new projects. The first perfomances of the year will be a couple of showcases at the APAP convention in New York City. Important work, and a possibility to reach out to new audiences in the US as well as the rest of the world. For that reason, we asked Maria Schneider for a quote on Ensemble Denada. She lives in New York, and she is still one of the most important jazz composers in the world. The answer was that she don´t do quotes. However, she had decided to make an exception for Ensemble Denada «because you guys are so great».
«This ensemble is truly outstanding, Helge Sunde's music being entirely unique as well as captivating, and the ensemble's performance being nothing short of stunning.» Maria Schneider.
Link to the latest live review from Pisa:
http://www.allaboutjazz.com/ensemble-denada-in-pisa-by-francesco-martine…(link is external)
Line-up 2016
Trumpets: Frank Brodahl, Marius Haltli,
Trumpet, flugelhorn: Anders Eriksson.
Soprano sax: Frode Nymo.
Alto sax, flute and alto flute: Børge-Are Halvorsen.
Tenor sax, bass clarinet: Atle Nymo.
Bass sax, contra alto clarinet: Shannon Mowday
Trombones: Even Kruse Skatrud, Helge Sunde.
Guitar: Jens Thoresen.
Piano: Olga Konkova.
Bass: Per Mathisen.
Drums: Håkon Mjåset Johansen